CAROLYN MILLER, LVT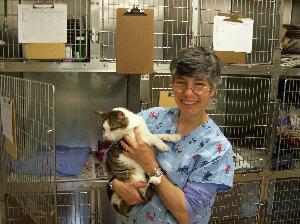 Carolyn has been a licensed veterinary technician for more than 15 years and is dedicated to providing the best nursing care for her small animal patients. She received her Bachelor of Science degree in Veterinary Technology at Mercy College and also has a BFA in Theatre Arts from the University of New Mexico.
Prior to joining our team, Carolyn contributed to the growth of Lincoln Square Veterinary Hospital in NYC. While there, she not only tended to the medical needs of patients, but also developed an adoption program for stray cats, dogs, birds, and rabbits.
When not working, she enjoys quiet time at home reading, bird watching, playing with her cats and dog or exploring New Jersey's natural, cultural and historical attractions.
Carolyn believes in the important bond between humans and their animal companions and is committed to helping each relationship reach its full potential. She looks forward to being part of the Monroe Animal Hospital team and caring for you and your animal friends!
Shannon Fallon

Shannon joined our staff in August 2008. She has an Appaloosa horse named Cherokee Dancer that she rides in rodeos where she participates in barrel racing.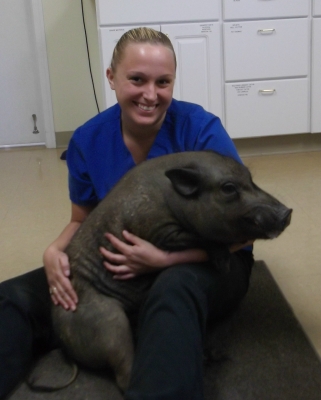 In addition to being an equestrian she enjoys the outdoors by camping, hiking, and quad riding.

Shannon is from the Central New Jersey area, having graduated from Old Bridge High School in 2005. She has an associates degree in Criminal Justice through the University of Phoenix.
Her pets include her dogs Jax and Mac, as well as Pretty Girl the pot-bellied pig, Dixie the rabbit, Cherokee the horse, Ruby the pony, and Thing 1 and Thing 2 the hamsters.