The Monroe Animal Hospital is now stocking the Tagg Pet Tracker GPS system. This device attaches to your dog's collar and allows you to locate your pet if it get's lost. It will even send you a text message or email if your pet leaves your yard! Click on the device to learn more.
We offer Laser therapy for pain and inflammation. Want to learn more? Click on the icon below.
Online Pharmacy Click Here About Us..
Monroe Animal Hospital is a full-service, small animal veterinary hospital providing comprehensive medical, surgical and dental care to local pet owners predominantly from Monroe Township, Jamesburg, Helmetta, Spotswood, Cranbury, Windsor, East Brunswick and South Brunswick.
At our hospital, your pet is an important part of our family, Our philosophy is to maintain the highest quality of medicine while caring for each animal as if he or she were our own while offering exemplary service to our clients.
Cutting-edge science with heart at our hospital, you get the best of both worlds. We're known for our warm, caring atmosphere as well as for our advanced veterinary technology. The latest diagnostic tools, surgical equipment and leading edge medical techniques enable us to provide your pet with many advanced services.
We provide a broad spectrum of diagnostic procedures through in-house testing and the use of external laboratories. We also work closely with local practices when special diagnostic procedures are required. The facility includes a pharmacy, in-hospital surgery suite, in-house digital x-ray capabilities, a closely supervised hospitalization area, and indoor cat condos.
We also utilize the experience and knowledge of specialists. Radiologists, cardiologists, Boarded generalists and internists, as well as surgical specialists can either examine or treat your pet in person at our hospital or view test results and render opinions through telemedicine.

At Monroe Animal Hospital we strive to offer not only sound advice, but also optimal veterinary care, thus allowing you the enjoyment of your companion for a maximum number of years. Our job is not only to treat your pet when he or she isn't feeling well, but also to help you learn how to keep your best friend happy and healthy.


The Monroe Animal Hospital received the Accessibility, Inclusion, and Sensitivity (AIS) award from the Monroe ADA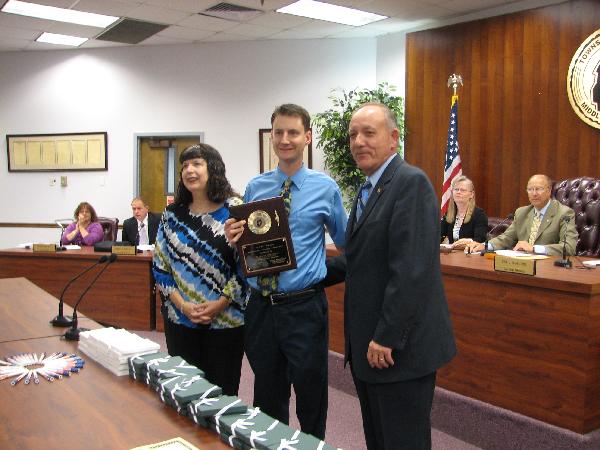 Committee (Americans With Disability) for special efforts to exceed ADA requirements. Pictured to the right is Dr. Hornstein accepting the award from Mayor Pucci and Judy Kalman .


The Monroe Animal Hospital has been certified as a Cat Friendly Practice by the American Association of Feline Practitioners. We are proud to be the first veterinary practice in Central NJ to receive this designation. More information on this program can be found by clicking on the cat friendly logo.


The Monroe Animal Hospital frequently updates our
page to update our clients on pet care news, events, and other other important topics. Visit us by clicking on the facebook badge or logo above.