Dana Lynn Bernstein, CMP, MA - Office Manager: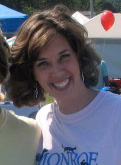 Dana?s husbands dream was to own a veterinary practice and she committed her time and energy to help make this happen. She is a stay at home mother of a 7 and a 8 year old and in her spare time, plans meetings, generates budgets, and writes articles.
Dana received her BA in Communications and French from Rider University and has a Masters degree in legal studies/dispute resolution from Montclair State University; and was trained as a mediator for the State of NJ. She lived in Aix-en-Provence, France, and has traveled throughout Europe.
Dana has been a meeting planner since 1992; she taught contract law, negotiation, and pre/post conference management at Kean University. She completed Self Expression and Leadership Program (Landmark Education) and developed/ implemented the "Create a Smile Program" where girl scouts wrote letters of encouragement to sick children at St. Joseph's

Hospital.
She is a brown belt/2 black tabs in Goju Ru style karate.